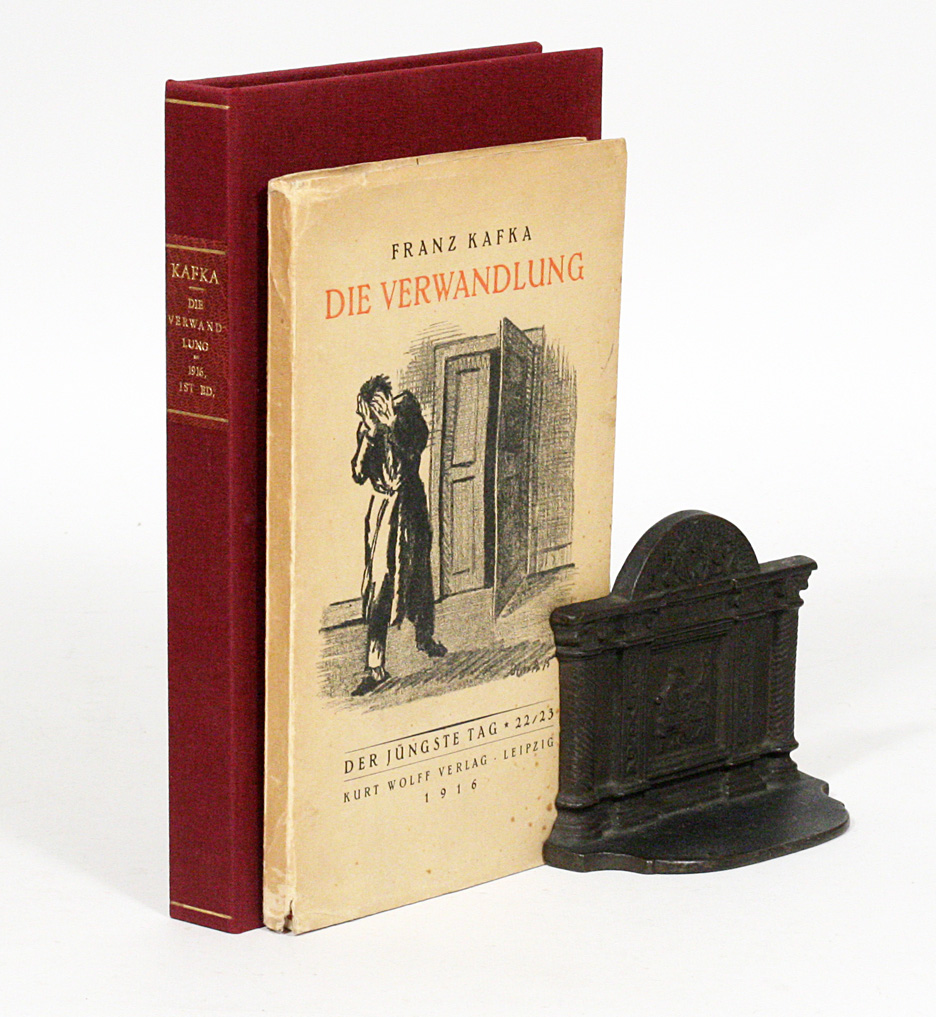 "As Gregor Samsa awoke one morning from uneasy dreams he found himself transformed in his bed into an enormous insect..."
KAFKA, FRANZ
Die Verwandlung [The Metamorphosis]
Leipzig: Kurt Wolff, 1915
FIRST EDITION, THE PREFERRED ISSUE IN ILLUSTRATED WRAPPER.
"On the evening of November 17, 1912, a young employee of the Workmen's Accident Insurance Agency, in Prague, sat down to work on a 'troubling little story' that had occurred to him 'in bed' the previous night. After spending the first part of the day in the office, he returned to the apartment he shared with his parents and thee sisters, had lunch, napped, took a walk, and then did a series of strengthening and stretching calisthenics. This was his daily ritual before settling in for the evening – and often far into the night – to what he considered his true life, a life dedicated to writing. Then, whether acting on a long-meditated plan or following an obscure, sudden intuition, he set down the words of the first hammerlike sentence of what would become his most famous story and one of the defining works of modern imaginative fiction, The Metamorphosis…" (Mark M. Anderson, ed. The Metamorphosis).
With the famous illustration by Ottomar Starke on the front wrapper. Kafka was adamant that the illustration not depict a bug, writing in a letter to the publishing house: "The insect itself must not be illustrated by a drawing. It cannot be shown at all, not even from a distance."
The Metamorphosis was one of the few works published by Kafka in his lifetime.
Leipzig: Kurt Wolff, 1915. Octavo, original illustrated wrappers (dated 1916 as usual) over red paper covers; custom cloth box. A little foxing to front wrapper; text exceptionally clean and fresh. An excellent copy of one of the cornerstones of Western literature.
Die Verwandlung [The Metamorphosis]: https://collectorsfolio.com/first-editions/7166/