Featured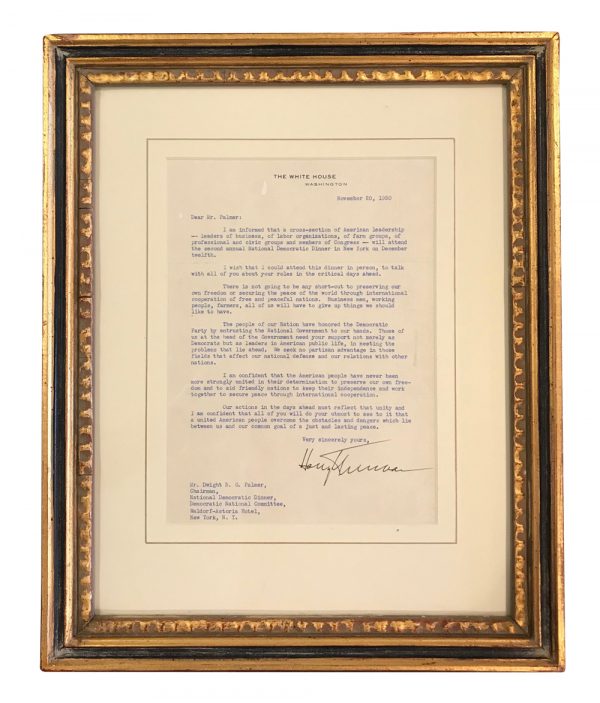 President Truman on freedom, peace, prosperity and international cooperation
TRUMAN, HARRY
"There is not going to be any short-cut to preserving our own freedom or securing the peace fo the world through international cooperation of free and peaceful nations… …I am confident that the American people have never been more strongly united in their determination to preserve our own freedom and to aid friendly nations… …Our actions in the days ahead must reflect that unity and I am confident that all of you will do your utmost to see to it that a united American people overcome the obstacles and dangers which lie between us and our common goal of a just and lasting peace." TRUMAN, Harry S. Typed Letter Signed. Washington, DC, November 20, 1950. A substantial letter with excellent content from President Truman addressed to Dwight R.G. Palmer, an executive of the Democratic National Committee. In this remarkable letter President Truman makes a forceful and earnest request for support in building a secure and lasting peace  in the early post-war period. This letter reflects what historians regard as President Truman's greatest achievement, i.e., his success in building a secure and stable peace after the Second World War.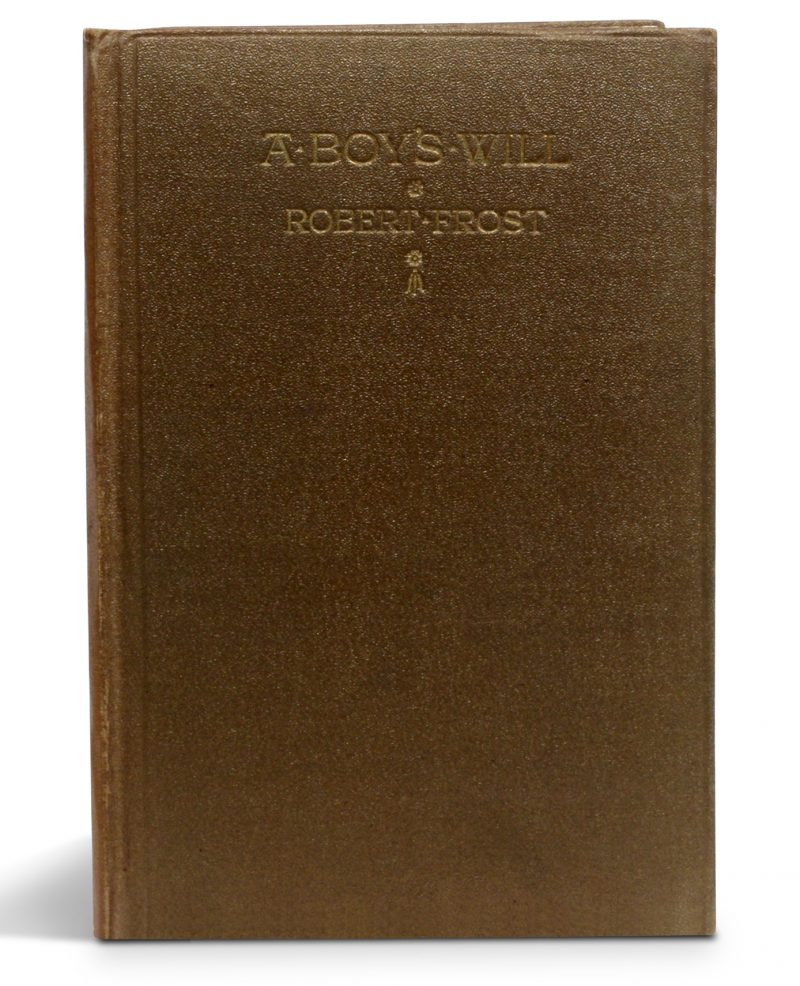 First edition of Robert Frost's first volume of poetry, A FINE COPY
FROST, ROBERT
A Boy's Will
London: David Nutt, 1913
FIRST EDITION, in the rare first-issue binding ("binding A"), of Robert Frost's first book of poetry.
"By 1911 Frost was fighting against discouragement. Poetry had always been considered a young person's game, but Frost, who was nearly 40 years old, had not published a single book of poems and had seen just a handful appear in magazines. In 1911 ownership of the Derry farm passed to Frost. A momentous decision was made: to sell the farm and use the proceeds to make a radical new start in London, where publishers were perceived to be more receptive to new talent. Accordingly, in August 1912 the Frost family sailed across the Atlantic to England. Frost carried with him sheaves of verses he had written but not gotten into print. English publishers in London did indeed prove more receptive to innovative verse, and, through his own vigorous efforts and those of the expatriate American poet Ezra Pound, Frost within a year had published A Boy's Will (1913). From this first book, such poems as 'Storm Fear,' 'Mowing,' and 'The Tuft of Flowers' have remained standard anthology pieces" (Britannica).
Octavo, original bronzed brown cloth with upper cover title in gilt. A fine copy. RARE.