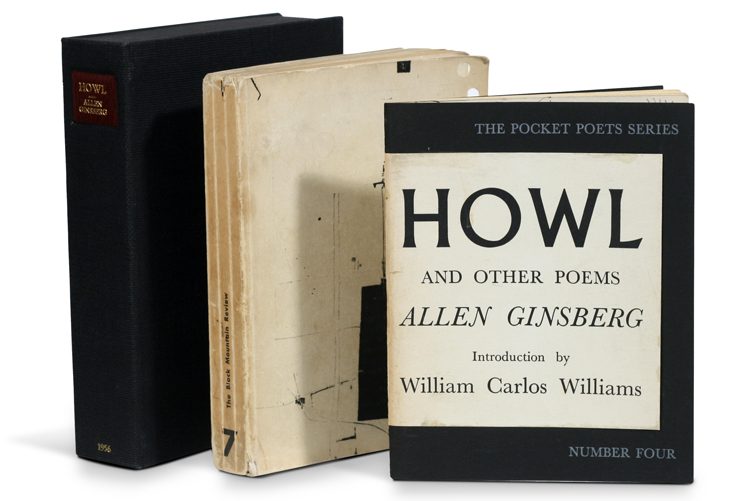 Allen Ginsberg's Howl, an exceptionally important association copy
GINSBERG, ALLEN
Howl
San Francisco: The City Lights Pocket Bookshop, 1956
"In October 1955 Ginsberg read the first part of his new poem ['Howl'] in public for the first time to tumultuous applause at the Six Gallery reading in San Francisco with the local poets Kenneth Rexroth, Gary Snyder, Michael McClure, Philip Whalen, and Philip LaMantia. Journalists were quick to herald the reading as a landmark event in American poetry, the birth of what they labeled the San Francisco Poetry Renaissance. Lawrence Ferlinghetti, who ran the City Lights Book Store and the City Lights publishing house in North Beach, sent Ginsberg a telegram echoing Ralph Waldo Emerson's response to Walt Whitman's Leaves of Grass: 'I greet you at the beginning of a great career. When do I get the manuscript?' Later Ginsberg wrote that 'in publishing 'Howl,' I was curious to leave behind after my generation an emotional time bomb that would continue exploding in U.S. consciousness in case our military-industrial-nationalist complex solidified into a repressive police bureaucracy' (Original Draft Facsimile Howl, p. xii).
"Early in the following year Howl and Other Poems was published with an introduction by William Carlos Williams as number four in the City Lights Pocket Poets Series. In May 1956 copies of the small black-and-white stapled paperback were seized by the San Francisco police, who arrested Ferlinghetti and Shigeyoshi Murao, his shop manager, and charged them with publishing and selling an obscene and indecent book. The American Civil Liberties Union took up the defense of Ginsberg's poem in a highly publicized obscenity trial in San Francisco, which concluded in October 1957 when Judge Clayton Horn ruled that Howl had redeeming social value" (American National Biography).
Introduction by William Carlos Williams. The Pocket Poets Series: Number Four. Small quarto, original printed wrappers; custom cloth box. Small quarto, original wrappers; custom box housing both Howl and The Black Mountain Review. A little toning to spine (as usual) and a small abrasion to rear cover. Overall an exceptionally fresh, clean beautiful copy.
Howl: https://collectorsfolio.com/first-editions/howl/