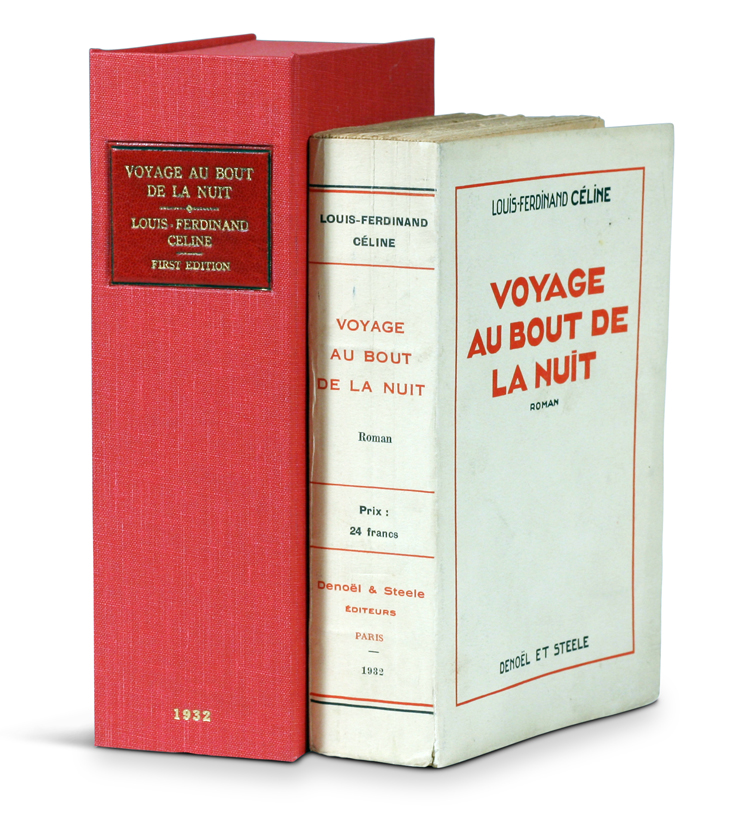 CéLINE, LOUIS-FERDINAND
Voyage au Bout de la Nuit
Paris: Denoël & Steele, 1932
FIRST EDITION of Celine's highly influential first novel.  
"'Journey,' published in 1932, burst like a bombshell on the Parisian literary scene, garnering huge sales and almost winning the Prix Goncourt… [The] novel is a furious attempt to place one man's consciousness at the epicenter of a world that is exploding under the centripetal influences of capitalism, imperialism, consumerism and licentiousness. In this, Céline anticipates the essentially apolitical rodomontades of the American Beats, quite as much as he belongs with the excruciating Marxian posturing of the interwar French existentialists and Surrealists…   

"If Ulysses is the great modernist novel most inspired by a desire for humanistic inclusion, then Voyage is its antithesis: a stream of misanthropic consciousness, almost unrelieved by any warmth or fellow-feeling" (Will Self, "Céline's Dark Journey").   Octavo, original wrappers; custom cloth box. With ads in rear. A few creases to spine and a few spots of soiling. A beautiful copy of a fragile book.
Voyage au Bout de la Nuit: https://collectorsfolio.com/first-editions/voyage-au-bout-de-la-nuit/