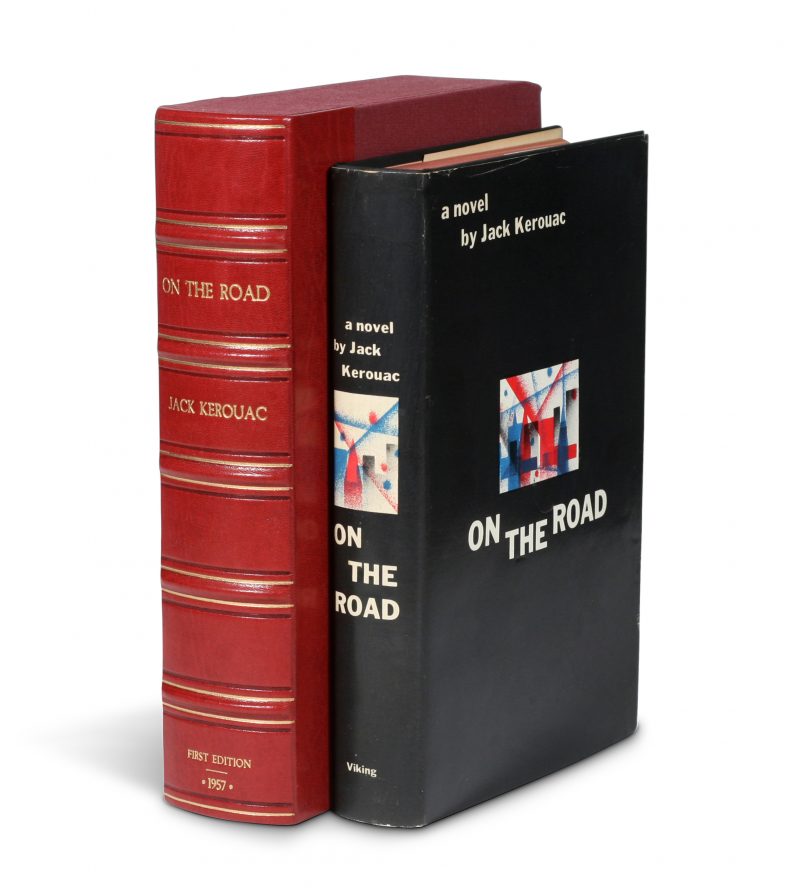 Scarce Review Copy of Kerouac's On the Road in Fine Condition
KEROUAC, JACK
On the Road
New York: Viking Press, 1957
FIRST EDITION, of the defining work of Beat literature. Scarce review copy, with stiff review card laid-in.
"Kerouac's literary art bore no resemblance to the undisciplined 'beatnik' writing of the late 1950s. His extraordinary attention to detail, astonishing memory, and encyclopedic grasp of European and American literature, popular culture, and world religions enabled him to create densely textured narratives that, when read aloud as they were meant to be, achieved an incantatory dimension rarely experienced in modern literature" (American National Biography). On the Road was Kerouac's first work—and in fact the first work in American literature—that exemplified this "literary art".
While most critics dismissed the novel as "self-indulgent, irresponsible, or dangerous", "it created an instant literary sensation" (ibid.). At the time of its publication, it was one of the few books that perfectly captured the zeitgeist of the post-war years and echoed it back to the rest of the country, amplified and embellished, to create something eternally contemporary. "Now more than ever, it seems, reading Paradise's tale brings out the questing young wanderer in many a reader, no matter one's age, gender, nationality, or predilection for all things Beat" (Holiday).
Octavo, original cloth, original dust jacket; custom half-morocco box. With advance review slip laid-in. Book fine, dust jacket in outstanding condition with a few flecks of rubbing; also a small patch of dampstaining visible on verso only. A superb copy with the extremely rare review card.
On the Road: https://collectorsfolio.com/first-editions/on-the-road-2/