Featured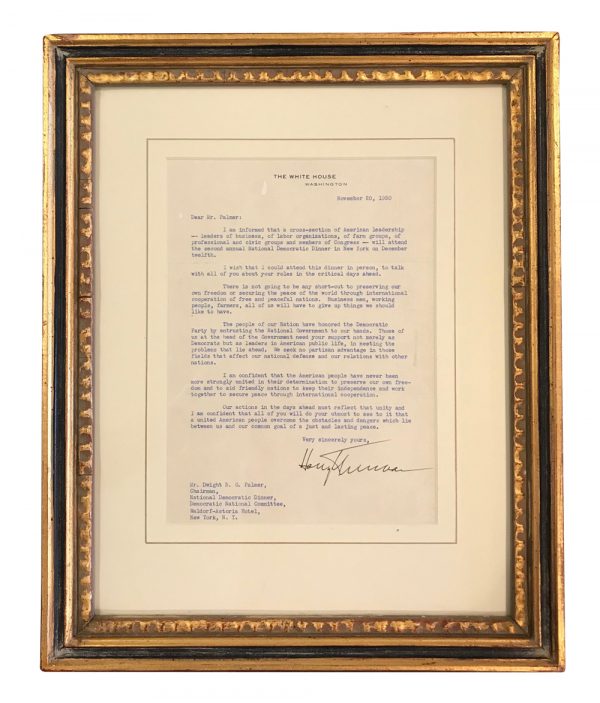 President Truman on freedom, peace, prosperity and international cooperation
TRUMAN, HARRY
"There is not going to be any short-cut to preserving our own freedom or securing the peace fo the world through international cooperation of free and peaceful nations… …I am confident that the American people have never been more strongly united in their determination to preserve our own freedom and to aid friendly nations… …Our actions in the days ahead must reflect that unity and I am confident that all of you will do your utmost to see to it that a united American people overcome the obstacles and dangers which lie between us and our common goal of a just and lasting peace." TRUMAN, Harry S. Typed Letter Signed. Washington, DC, November 20, 1950. A substantial letter with excellent content from President Truman addressed to Dwight R.G. Palmer, an executive of the Democratic National Committee. In this remarkable letter President Truman makes a forceful and earnest request for support in building a secure and lasting peace  in the early post-war period. This letter reflects what historians regard as President Truman's greatest achievement, i.e., his success in building a secure and stable peace after the Second World War.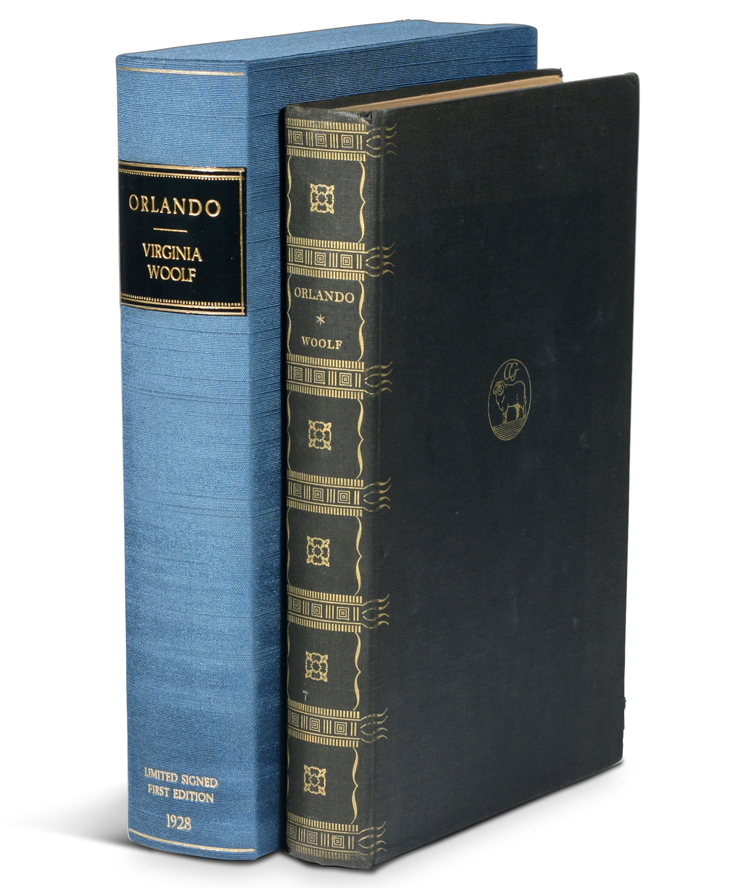 WOOLF, VIRGINIA
Orlando
New York: Crosby Gaige, 1928
SIGNED LIMITED FIRST EDITION, one of 800 copies signed by Woolf.
"Virginia Woolf's novel about Vita Sackville-West represented a turn from the kind of experimentation in life in which she could not wholly let herself go to the kind of venture in art where she could be wholeheartedly involved" (Ralph Freedman, Virginia Woolf: Revaluation and Continuity, A Collection of Essays). Orlando came as a great departure from Woolf's other novels—less carefully written, and "in some ways foolish—a novelist's holiday rather than a novel" (ibid.). It was, indeed, less of a novel, than "the longest and most charming love letter in literature" (Nigel Nicholson).
Precedes the first UK edition. Krikpatrick A11a. Signed on verso of half-title. Octavo, original elaborately gilt-decorated cloth; custom cloth box. Fading to cloth (about an inch in from the edges on the front board, less on rear) and fraying to edges. A very good copy.