Featured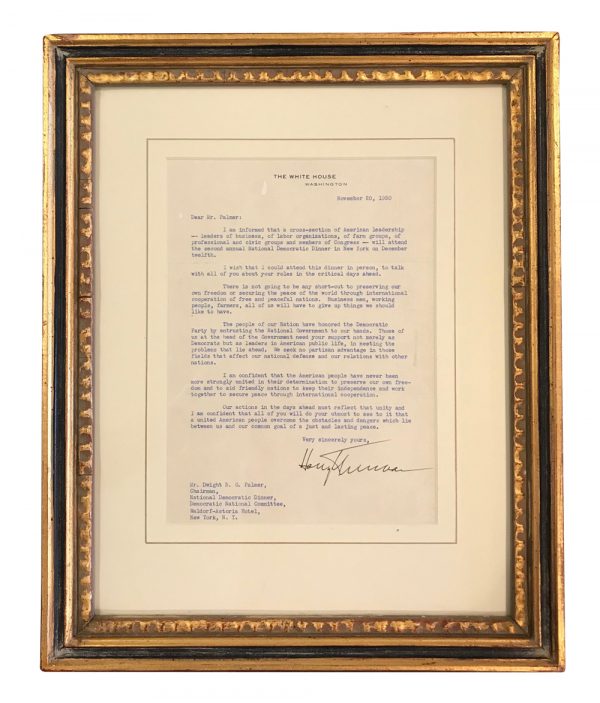 President Truman on freedom, peace, prosperity and international cooperation
TRUMAN, HARRY
"There is not going to be any short-cut to preserving our own freedom or securing the peace fo the world through international cooperation of free and peaceful nations… …I am confident that the American people have never been more strongly united in their determination to preserve our own freedom and to aid friendly nations… …Our actions in the days ahead must reflect that unity and I am confident that all of you will do your utmost to see to it that a united American people overcome the obstacles and dangers which lie between us and our common goal of a just and lasting peace." TRUMAN, Harry S. Typed Letter Signed. Washington, DC, November 20, 1950. A substantial letter with excellent content from President Truman addressed to Dwight R.G. Palmer, an executive of the Democratic National Committee. In this remarkable letter President Truman makes a forceful and earnest request for support in building a secure and lasting peace  in the early post-war period. This letter reflects what historians regard as President Truman's greatest achievement, i.e., his success in building a secure and stable peace after the Second World War.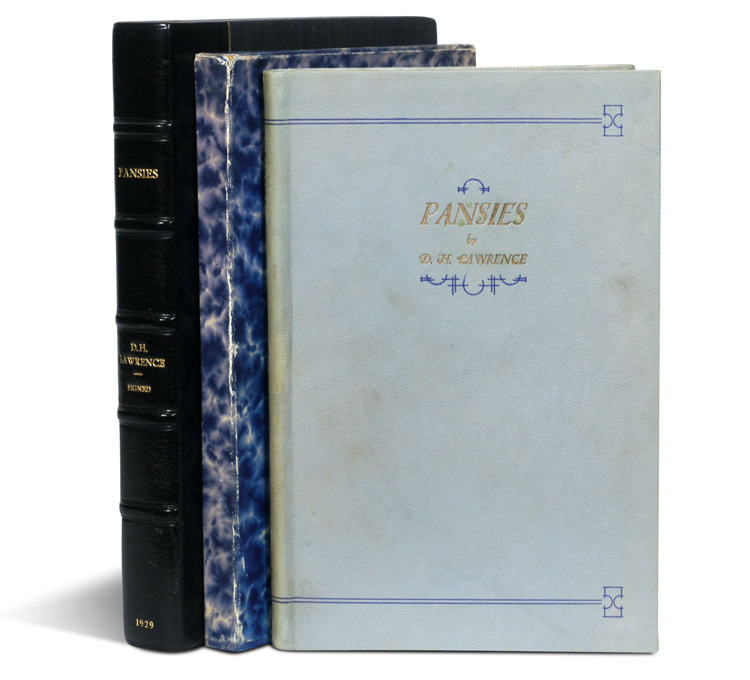 Signed by D.H. Lawrence, 1/500 copies
Lawrence, D.H.
Pansies
London: Privately printed for subscribers only by P.R. Stephenson, 1929
"So I should wish these Pansies to be taken as thoughts rather than anything else; casual thoughts that are true while they are true and irrelevant when the mood and circumstances changes. I should like them to be as fleeting as pansies, which wilt so soon, and are fascinating with their varied faces, while they last. And flowers, to my thinking, are not merely pretty-pretty. They have in their fragrance an earthiness of the humus and corruptive earth from which they spring. And pansies, in their streaked faces, have a look of many things besides hearts-ease." – D.H. Lawrence
"Lawrence himself never took Pansies as seriously as his hostile critics, as his two introductions make clear: he called them 'rag poems'" (Keith Sagar, The Art of D.H. Lawrence). Nevertheless, this unexpurgated edition, considered by Lawrence to be complete with the full introduction and fourteen additional poems, was published privately due to concerns about pornography.  The manuscript had recently been seized by the English police for suspicions of obscenity, which Lawrence took as an insult and perhaps prompted the publication of this and another edition of 500 copies.
PRIVATELY PRINTED FIRST EDITION, number 48 of only 50 copies SIGNED BY LAWRENCE. Octavo, with frontispiece portait of Lawerence printed in brown. Title designed by W.G. West, printed in brown and blue, on Japanese vellum. Original soft grey/blue leather decorated in blue and gold, top edges gilt, others uncut. Bookplate of John Kobler (biographer of Al Capone) on frton pastesown. Spine faded, a little soiling to boards; original slipcase with a little fading and wear at edges; custom half-morocco box with gilt decoration on front board. A very nice copy. RARE.