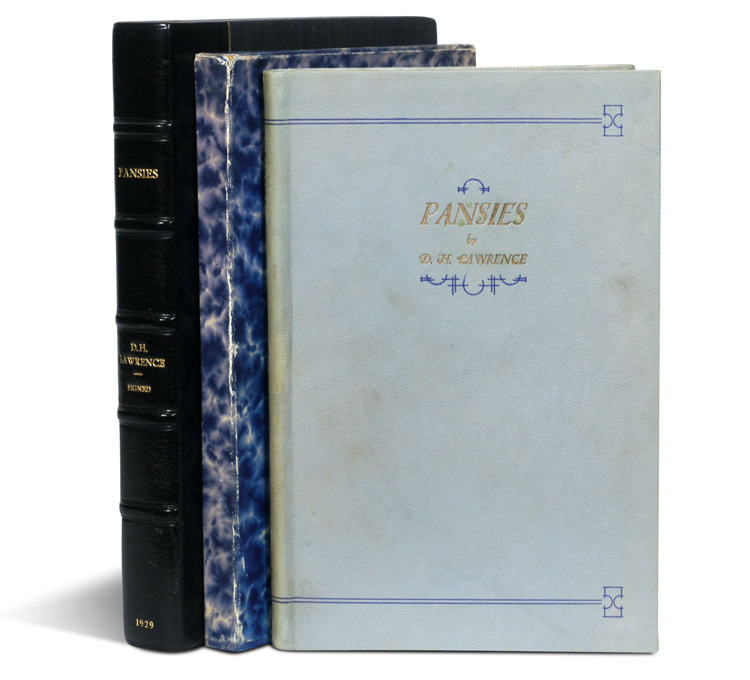 Signed by D.H. Lawrence, 1/500 copies
Lawrence, D.H.
Pansies
London: Privately printed for subscribers only by P.R. Stephenson, 1929
"Lawrence himself never took Pansies as seriously as his hostile critics, as his two introductions make clear: he called them 'rag poems'" (Keith Sagar, The Art of D.H. Lawrence). Nevertheless, this unexpurgated edition, considered by Lawrence to be complete with the full introduction and fourteen additional poems, was published privately due to concerns about pornography.  The manuscript had recently been seized by the English police for suspicions of obscenity, which Lawrence took as an insult and perhaps prompted the publication of this and another edition of 500 copies.
PRIVATELY PRINTED FIRST EDITION, number 48 of only 50 copies SIGNED BY LAWRENCE. Octavo, with frontispiece portait of Lawerence printed in brown. Title designed by W.G. West, printed in brown and blue, on Japanese vellum. Original soft grey/blue leather decorated in blue and gold, top edges gilt, others uncut. Bookplate of John Kobler (biographer of Al Capone) on frton pastesown. Spine faded, a little soiling to boards; original slipcase with a little fading and wear at edges; custom half-morocco box with gilt decoration on front board. A very nice copy. RARE.
Pansies: https://collectorsfolio.com/first-editions/pansies/