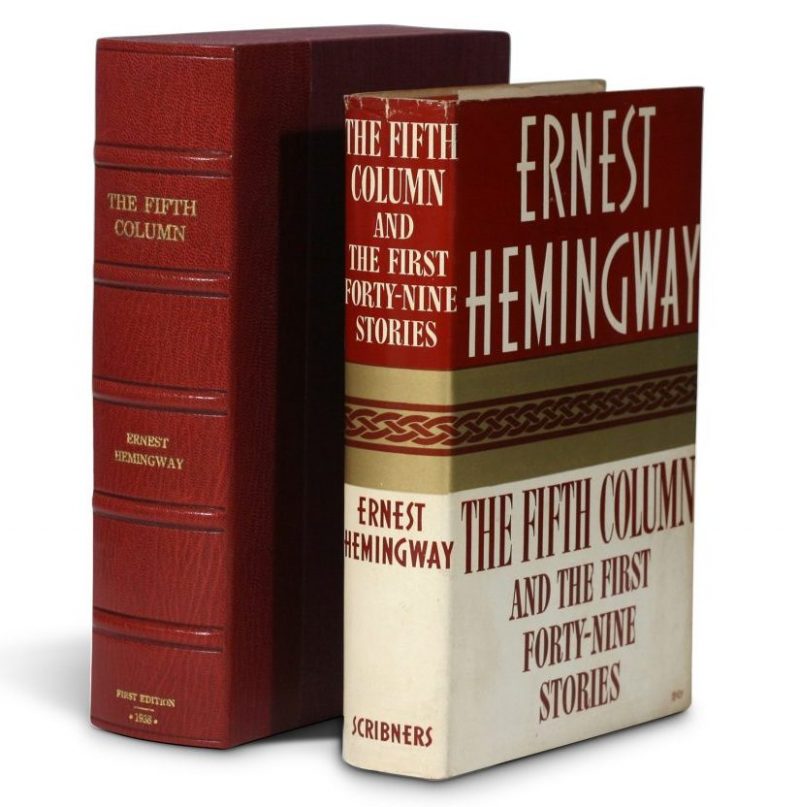 A Fine Copy
HEMINGWAY, ERNEST
The Fifth Column
New York: Charles Scribner's and Sons, 1938
FIRST EDITION of Hemingway's most comprehesive collection of short stories, published with The Fifth Column, Hemingway's only full-length play.
"Five years after publishing Winner Take Nothing (1933), he collected the three separate volumes of stories and added to them a handful of other pieces– four stories written after 1933: "The Snows of Kilimanjaro" (1936), "The Short Happy Life of Francis Macomber (1936), "The Capital of the World" (1936), and "Old Man at the Bridge" (1937); one early story previously bypassed for commercial publication, "Up in Michigan" (1923, Three Stories and Ten Poems); and The Fifth Column, a play set in Civil-War Spain- to make up The Fifth Column and The First Forty-Nine Stories (1938), the only collective gathering of his stories to appear during his lifetime" (Bendixen, A Companion to the American Short Story).
Octavo, original cloth, original dust jacket; custom box. Book near fine, dust jacket bright and clean with only trivial wear. An excellent copy.
The Fifth Column: https://collectorsfolio.com/first-editions/the-fifth-column/