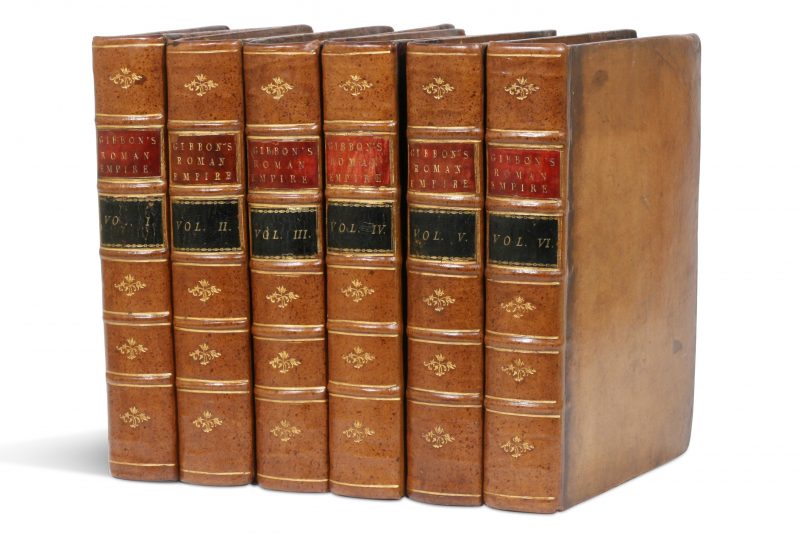 GIBBON, EDWARD
The History of the Decline and Fall of the Roman Empire
London: Strahan and T. Cadell, 1776
FIRST EDITIONS. "To this task Gibbon brought a width of vision and a critical mastery of the available sources which have not been equalled to this day; and the result was clothed in an inimitable prose" (PMM, 222).
Six volumes. Quarto. Contemporary tan calf rebacked with old red and green lettering-pieces laid down, gilt in compartments. Engraved portrait frontispiece in Vol. I, 2 folding maps in Vol. II, 1 folding map in Vol. III, without half-titles in Vols. II and III, others present. Frontispiece slightly foxed as usual, some offsetting, a few gatherings slightly foxed, a very good set.
With portrait frontispiece of Gibbon (in vol. I), 1 folding map of Europe adjacent to Constantinople (in vol. II) 1 folding map of the Eastern Roman Empire and 1 folding map of the Western Roman Empire (in vol. III). The portrait of Gibbon "engraved by Joseph Hall from an original picture painted by Sir Joshua Reynolds" published by Strahan and Cadell in 1780 and issued with the second volume, has been moved by the binder to the appropriate place, at the beginning of vol. I. That volume is in the second of two variant states, without the cancels X4 and a4.
The History of the Decline and Fall of the Roman Empire: https://collectorsfolio.com/first-editions/the-history-of-the-decline-and-fall-of-the-roman-empire-2/