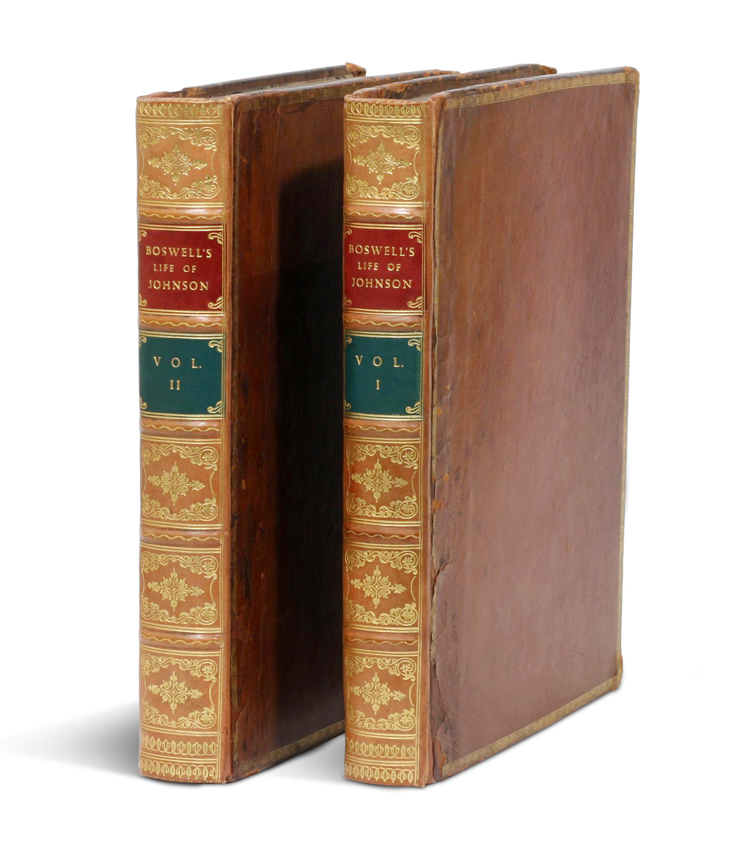 First Edition of Boswell's Life of Johnson
BOSWELL, JAMES
The Life of Samuel Johnson, LL.D.
London: Printed by Henry Baldwin for Charles Dilly, 1791
FIRST EDITION, FIRST STATE of the most famous and most beloved biography in the English language. One of only 1750 copies of the first edition printed (both first and second states combined).
"Anyone interested in biography soon becomes interested in Boswell's Life of Johnson. It stands next to other biographies as Shakespeare stands beside other playwrights: towering above them all. For more than two centuries it has been continually in print, and in that time it has won innumerable admirers. No other biography has given so much pleasure; no other biographer has created such a vivid central character. It has become a truism that, as a result of Boswell's extraordinary book, Samuel Johnson is better known to us than any other man in history" (Sisman, Boswell's Presumptuous Task, xv).
First state with "gve" on page 135 of vol. I. Quarto. Two volumes. Contemporary calf, skillfully rebacked. Gilt compartments, double-labels. A wide margined copy in a handsome binding. With frontispiece (after Sir Joshua Reynolds) and the two engraved plates in vol. II. Courtney & Smith, pp. 172-73. Pottle 79. Grolier English Hundred 65. Rothschild 463.
The Life of Samuel Johnson, LL.D.: https://collectorsfolio.com/first-editions/the-life-of-samuel-johnson-ll-d/