Featured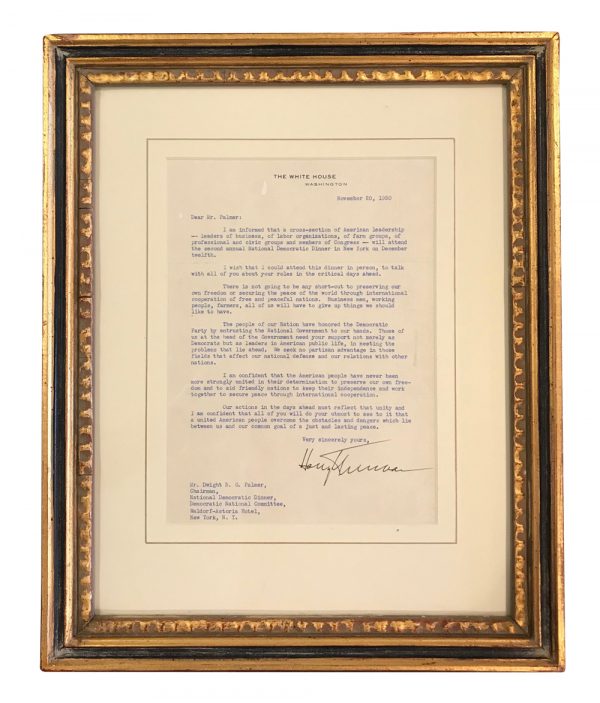 President Truman on freedom, peace, prosperity and international cooperation
TRUMAN, HARRY
"There is not going to be any short-cut to preserving our own freedom or securing the peace fo the world through international cooperation of free and peaceful nations… …I am confident that the American people have never been more strongly united in their determination to preserve our own freedom and to aid friendly nations… …Our actions in the days ahead must reflect that unity and I am confident that all of you will do your utmost to see to it that a united American people overcome the obstacles and dangers which lie between us and our common goal of a just and lasting peace." TRUMAN, Harry S. Typed Letter Signed. Washington, DC, November 20, 1950. A substantial letter with excellent content from President Truman addressed to Dwight R.G. Palmer, an executive of the Democratic National Committee. In this remarkable letter President Truman makes a forceful and earnest request for support in building a secure and lasting peace  in the early post-war period. This letter reflects what historians regard as President Truman's greatest achievement, i.e., his success in building a secure and stable peace after the Second World War.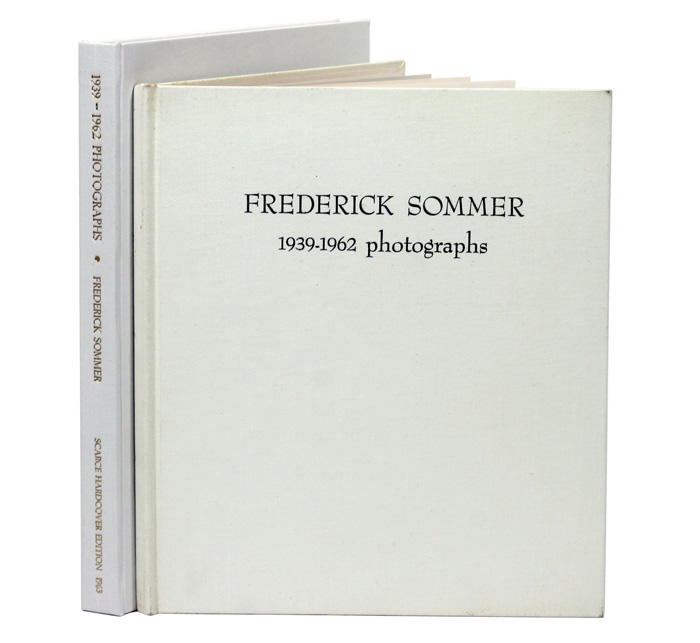 SOMMER, FREDERICK
1939-1962 Photographs
New York: Aperture, 1962
FIRST EDTION, THE EXTREMELY RARE HARDCOVER ISSUE; one of an estimated fifty copies bound for presentation.
"[T]his is an almost perfect monograph. It begins and ends with Sommer's exquisite abstractions, and includes some of the best examples of Sommer's work in portraiture, collage, landscape, and still life to date. Every two-page spread reveals something more about the images through their juxtaposition. And then there is the text. It is very unusual to have writing at this level, uninfected with either sentimentality or pomposity, from an American photographer, but what's more unusual is to have an artist who makes images and text and can combine them in a way that deepens and extends the effects of each. This early enactment of Sommer's ideas about the workings of linguistic and pictorial logic is a gem" (David Levi Strauss. The Book of 101 Books). Roth 101.
Complete with 30 black and white photographs. New York: Aperture, 1962. Small folio (235x205mm), original white cloth with black lettering. Only a few spots of soiling to cloth. A magnificent copy.