Featured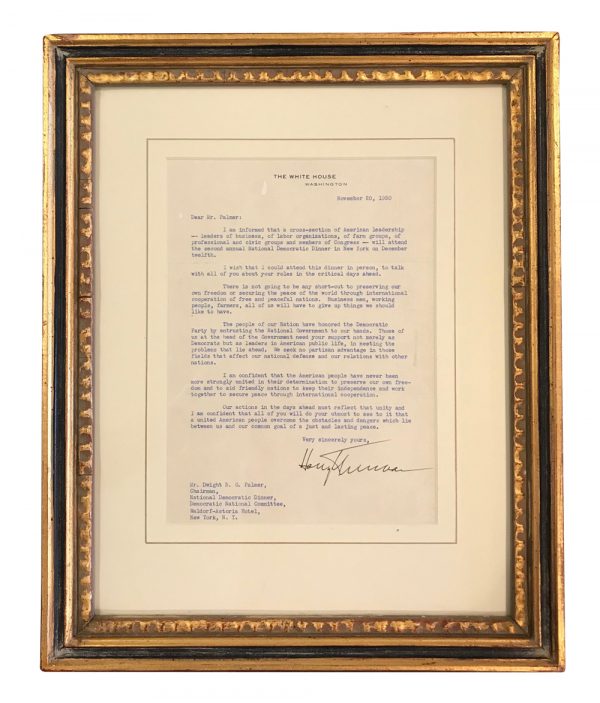 President Truman on freedom, peace, prosperity and international cooperation
TRUMAN, HARRY
"There is not going to be any short-cut to preserving our own freedom or securing the peace fo the world through international cooperation of free and peaceful nations… …I am confident that the American people have never been more strongly united in their determination to preserve our own freedom and to aid friendly nations… …Our actions in the days ahead must reflect that unity and I am confident that all of you will do your utmost to see to it that a united American people overcome the obstacles and dangers which lie between us and our common goal of a just and lasting peace." TRUMAN, Harry S. Typed Letter Signed. Washington, DC, November 20, 1950. A substantial letter with excellent content from President Truman addressed to Dwight R.G. Palmer, an executive of the Democratic National Committee. In this remarkable letter President Truman makes a forceful and earnest request for support in building a secure and lasting peace  in the early post-war period. This letter reflects what historians regard as President Truman's greatest achievement, i.e., his success in building a secure and stable peace after the Second World War.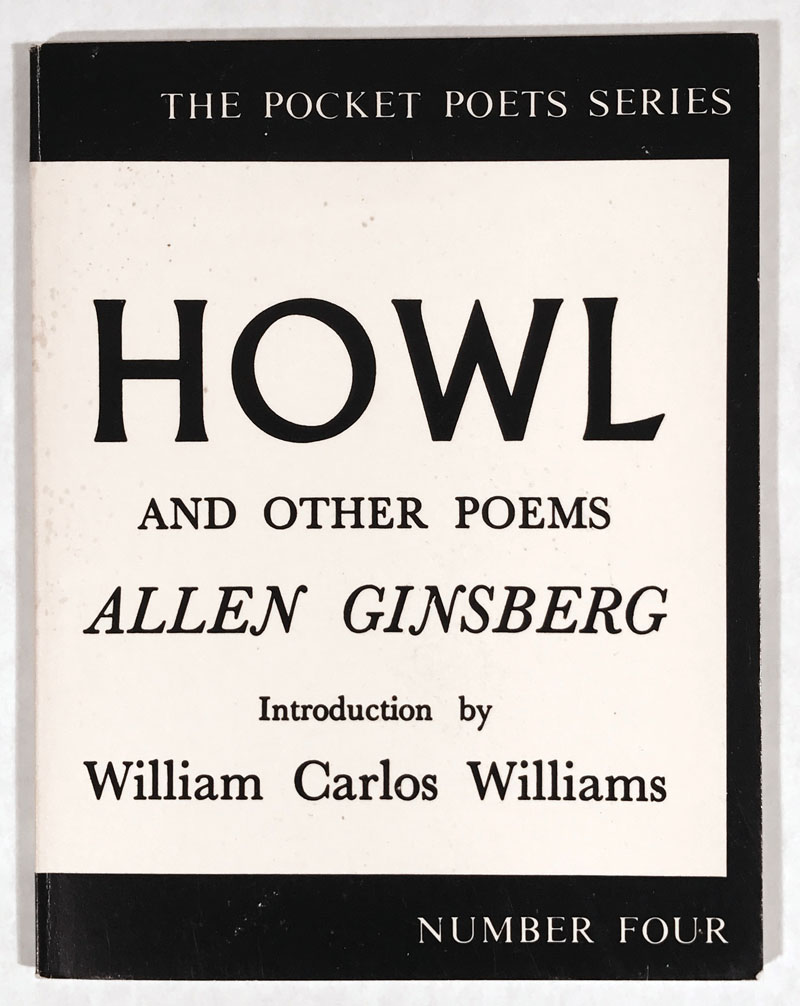 Signed and inscribed by Allen Ginsberg
Ginsberg, Allen
Howl and Other Poems
San Francisco: City Lights Books, 1983
SIGNED AND INSCRIBED BY ALLEN GINSBERG, WITH SUNFLOWER DRAWING. A later printing of Ginsberg's masterpiece.
"In October 1955 Ginsberg read the first part of his new poem ['Howl'] in public for the first time to tumultuous applause at the Six Gallery reading in San Francisco with the local poets Kenneth Rexroth, Gary Snyder, Michael McClure, Philip Whalen, and Philip LaMantia. Journalists were quick to herald the reading as a landmark event in American poetry, the birth of what they labeled the San Francisco Poetry Renaissance. Lawrence Ferlinghetti, who ran the City Lights Book Store and the City Lights publishing house in North Beach, sent Ginsberg a telegram echoing Ralph Waldo Emerson's response to Walt Whitman's Leaves of Grass: 'I greet you at the beginning of a great career. When do I get the manuscript?' Later Ginsberg wrote that 'in publishing 'Howl,' I was curious to leave behind after my generation an emotional time bomb that would continue exploding in U.S. consciousness in case our military-industrial-nationalist complex solidified into a repressive police bureaucracy' (Original Draft Facsimile Howl, p. xii).
Very nearly fine with only the most trivial wear to extremities.