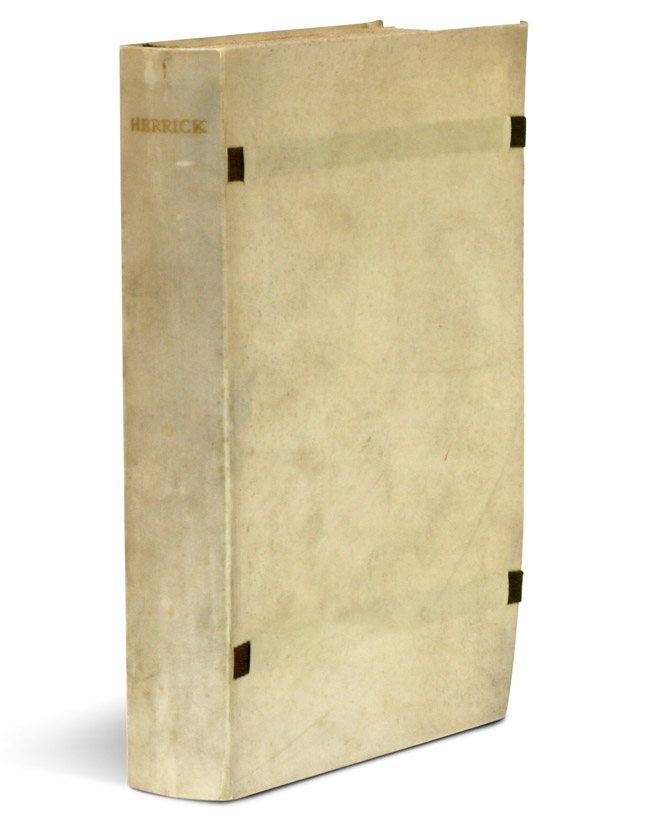 1/250 copies from the Kelmscott Press
(KELMSCOTT PRESS.) HERRICK, ROBERT; MORRIS, WILLIAM
Poems Chosen out of the Works
Hammersmith: : The Kelmscott Press, 1895
FIRST KELMSCOTT PRESS EDITION, ONE OF ONLY 250 COPIES ON PAPER (from an edition of 258).
The Kelmscott Press "was far and away the most splendid of all private presses… quite without a peer." -Colin Franklin, The Private Presses
Beautifully printed in red and black in Golden type. Exquisitely illustrated by William Morris with woodcut title page, first page (borders), and decorated initials throughout.  Hammersmith: Kelmscott Press, 1895 [issued 1896]. Small quarto, original limp vellum, yapp edges, gilt spine title, green silk ties; uncut. One tie loose, else fine.