Featured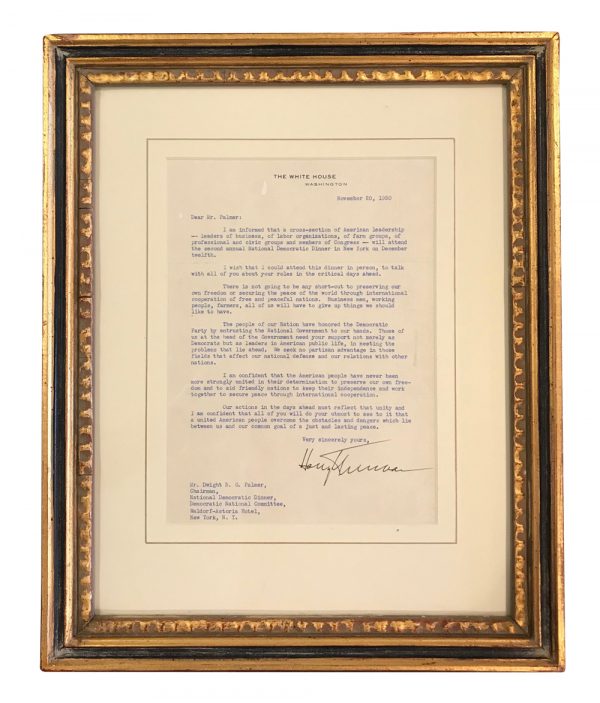 President Truman on freedom, peace, prosperity and international cooperation
TRUMAN, HARRY
"There is not going to be any short-cut to preserving our own freedom or securing the peace fo the world through international cooperation of free and peaceful nations… …I am confident that the American people have never been more strongly united in their determination to preserve our own freedom and to aid friendly nations… …Our actions in the days ahead must reflect that unity and I am confident that all of you will do your utmost to see to it that a united American people overcome the obstacles and dangers which lie between us and our common goal of a just and lasting peace." TRUMAN, Harry S. Typed Letter Signed. Washington, DC, November 20, 1950. A substantial letter with excellent content from President Truman addressed to Dwight R.G. Palmer, an executive of the Democratic National Committee. In this remarkable letter President Truman makes a forceful and earnest request for support in building a secure and lasting peace  in the early post-war period. This letter reflects what historians regard as President Truman's greatest achievement, i.e., his success in building a secure and stable peace after the Second World War.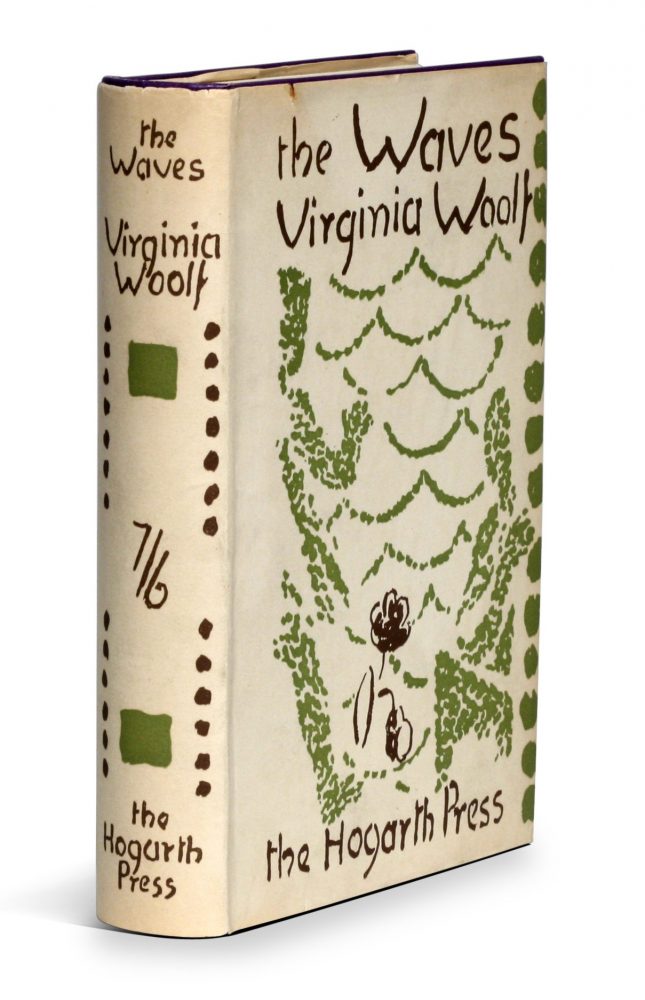 WOOLF, VIRGINIA
The Waves
London: Hogarth Press, 1931
FIRST EDITION of Woolf's most experimental novel. With original dust jacket designed by Vanessa Bell.
"Part of Virginia Woolf's greatness lay in her continuation of Henry James's aim to define the novel as a form of art. She fulfills its inherent flexibility when she blends the novel with other genres to create new forms… Her most formally inventive fiction, The Waves appears to owe its inspiration more to poetry and drama than the novel… Woolf freely manipulated conventional elements of fiction… in a concerted attempt to take the novel beyond its customary compass" (Dictionary of National Biography; Eric Warner, Virginia Woolf, The Waves).
Octavo, original purple cloth, original dust jacket. Book fine, dust jacket with a hint of toning to spine and a slight bit of edgewear. A beautiful copy, rare in such fine condition.