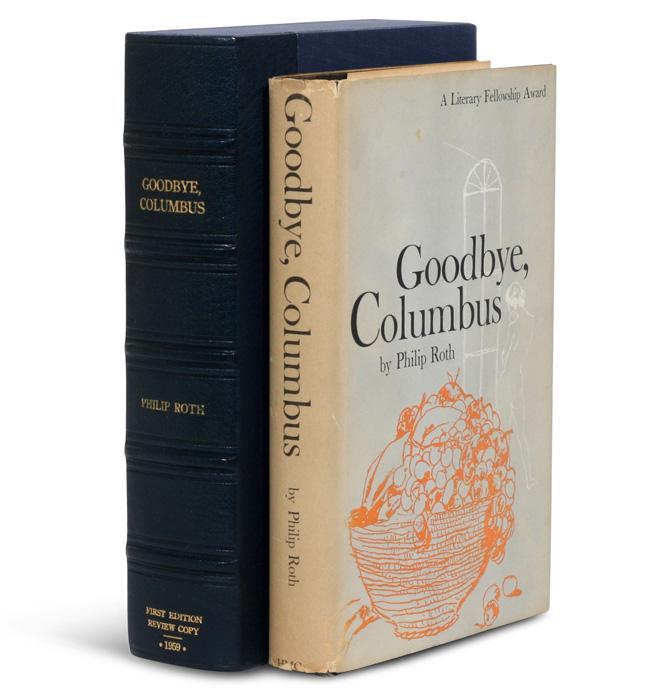 ARTHUR MIZENER'S REVIEW COPY, WITH ANNOTATIONS BY MIZENER.
Roth, Philip
Goodbye, Columbus
Boston: Houghton Mifflin, 1959
ARTHUR MIZENER'S REVIEW COPY OF PHILIP ROTH'S MASTERFUL FIRST BOOK. WITH ANNOTATIONS BY MIZENER.
"The real novelty of Roth's view of American Jewish Life, circa 1959, was its absence of any sense of tragedy or oppression… Hurling themselves into the American Dream, the Patimkins live a continuous daily round of sports… and of eating–gargantuan meals, served by Carlota, the maid, that smother conversation in active digestion and extra helpings." –Claudia Roth Pierpoint, Roth Unbound: A Writer and His Books
"Professor Mizener's best-selling biography of Fitzgerald, "The Far Side of Paradise," was published in 1951 by Houghton Mifflin, a decade after a heart attack ended the downward-spiraling career of the canonizer of the Jazz Age of the 1920's."–NY Times obituary, Feb. 15, 1988.
Octavo. Original cloth, original dust jacket. Review slip laid in. Bookplate of Arthur Mizener. Neat pencil annotations by Mizener throughout. Spine toned with small chip at head and light edgewear. Custom leather box. An impressive copy. RARE.
Goodbye, Columbus: https://collectorsfolio.com/first-editions/goodbye-columbus/