Featured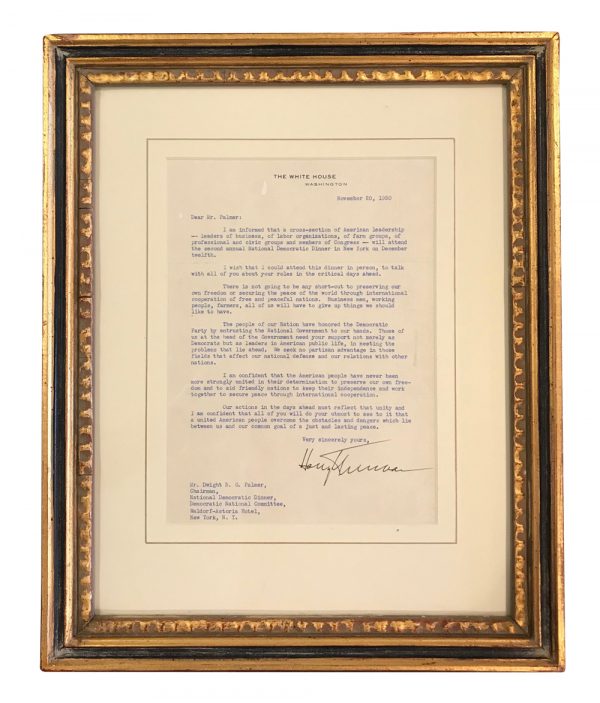 President Truman on freedom, peace, prosperity and international cooperation
TRUMAN, HARRY
"There is not going to be any short-cut to preserving our own freedom or securing the peace fo the world through international cooperation of free and peaceful nations… …I am confident that the American people have never been more strongly united in their determination to preserve our own freedom and to aid friendly nations… …Our actions in the days ahead must reflect that unity and I am confident that all of you will do your utmost to see to it that a united American people overcome the obstacles and dangers which lie between us and our common goal of a just and lasting peace." TRUMAN, Harry S. Typed Letter Signed. Washington, DC, November 20, 1950. A substantial letter with excellent content from President Truman addressed to Dwight R.G. Palmer, an executive of the Democratic National Committee. In this remarkable letter President Truman makes a forceful and earnest request for support in building a secure and lasting peace  in the early post-war period. This letter reflects what historians regard as President Truman's greatest achievement, i.e., his success in building a secure and stable peace after the Second World War.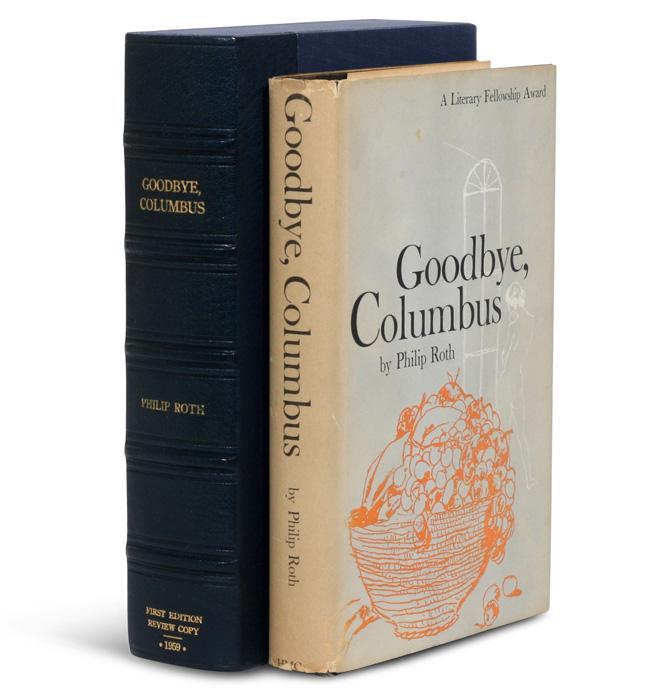 ARTHUR MIZENER'S REVIEW COPY, WITH ANNOTATIONS BY MIZENER.
Roth, Philip
Goodbye, Columbus
Boston: Houghton Mifflin, 1959
ARTHUR MIZENER'S REVIEW COPY OF PHILIP ROTH'S MASTERFUL FIRST BOOK. WITH ANNOTATIONS BY MIZENER.
"The real novelty of Roth's view of American Jewish Life, circa 1959, was its absence of any sense of tragedy or oppression… Hurling themselves into the American Dream, the Patimkins live a continuous daily round of sports… and of eating–gargantuan meals, served by Carlota, the maid, that smother conversation in active digestion and extra helpings." –Claudia Roth Pierpoint, Roth Unbound: A Writer and His Books
"Professor Mizener's best-selling biography of Fitzgerald, "The Far Side of Paradise," was published in 1951 by Houghton Mifflin, a decade after a heart attack ended the downward-spiraling career of the canonizer of the Jazz Age of the 1920's."–NY Times obituary, Feb. 15, 1988.
Octavo. Original cloth, original dust jacket. Review slip laid in. Bookplate of Arthur Mizener. Neat pencil annotations by Mizener throughout. Spine toned with small chip at head and light edgewear. Custom leather box. An impressive copy. RARE.