Featured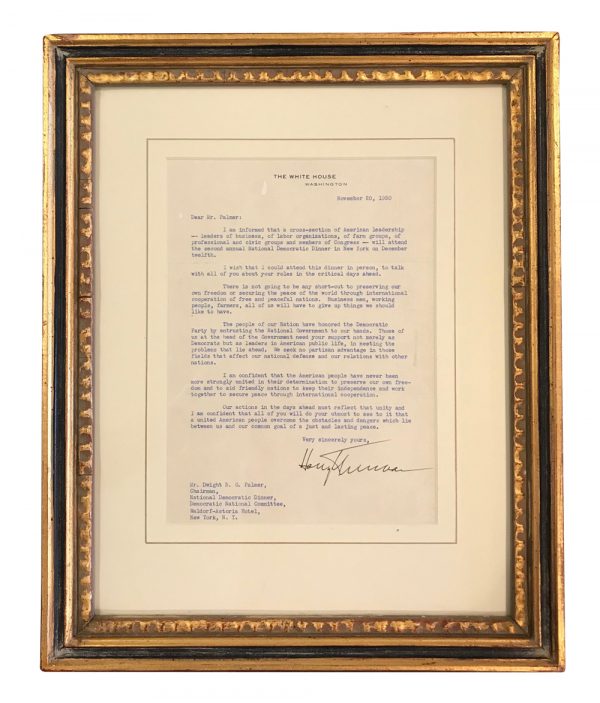 President Truman on freedom, peace, prosperity and international cooperation
TRUMAN, HARRY
"There is not going to be any short-cut to preserving our own freedom or securing the peace fo the world through international cooperation of free and peaceful nations… …I am confident that the American people have never been more strongly united in their determination to preserve our own freedom and to aid friendly nations… …Our actions in the days ahead must reflect that unity and I am confident that all of you will do your utmost to see to it that a united American people overcome the obstacles and dangers which lie between us and our common goal of a just and lasting peace." TRUMAN, Harry S. Typed Letter Signed. Washington, DC, November 20, 1950. A substantial letter with excellent content from President Truman addressed to Dwight R.G. Palmer, an executive of the Democratic National Committee. In this remarkable letter President Truman makes a forceful and earnest request for support in building a secure and lasting peace  in the early post-war period. This letter reflects what historians regard as President Truman's greatest achievement, i.e., his success in building a secure and stable peace after the Second World War.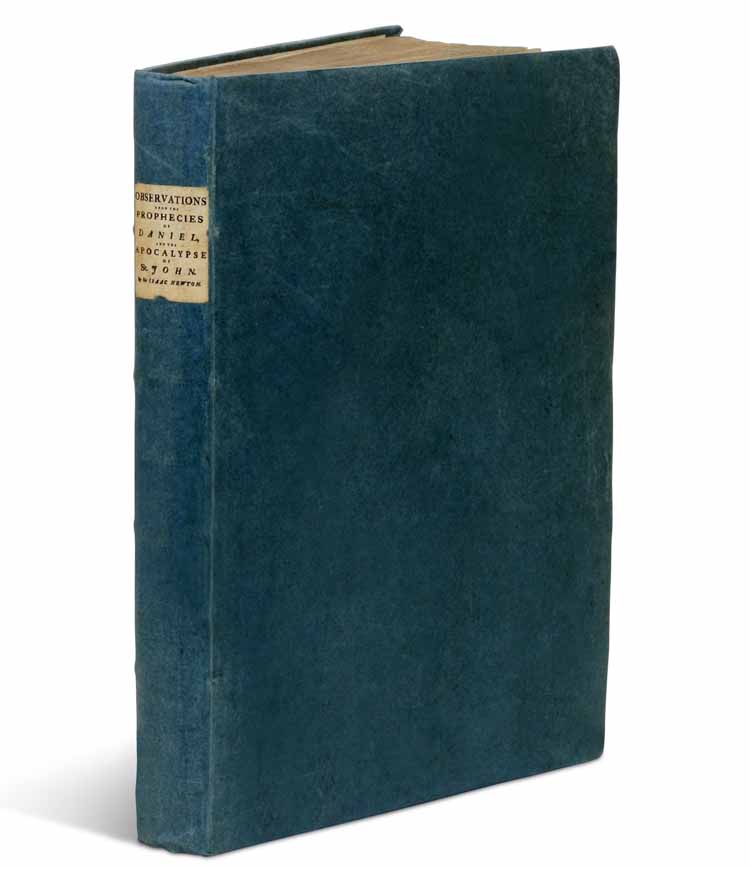 NEWTON, ISAAC
Observations upon the prophecies of Daniel, and the Apocalypse of St. John
London: J. Darby and T. Browne, 1733
FIRST EDITION of Isaac Newton's posthumously published theological interpretation of the Biblical prophecies.
"It has generally been assumed that the work was a product of his old age, as the treatise published was. Nevertheless, references to the prophecies filled his early theological notebook. Already in the 1670s, he believed that the essence of the Bible was the prophecy of human history rather than the revelation of truths beyond human reason unto life eternal. Already at that time he believed what he asserted later about Revelation: 'There [is] no book in all the scriptures so much recommended & guarded by providence as this.' He put that belief into practice by composing his earliest theological study. It proved to be more than a passing interest. His first full discourse contains many insertions in later hands, showing that he referred to it frequently. He composed numerous revisions of it, one of which was probably the last thing on which he was at work when he died more than fifty years later." (Richard Westfall, The Life of Sir Isaac Newton).
Quarto, period style boards. Uncut, a superb copy.