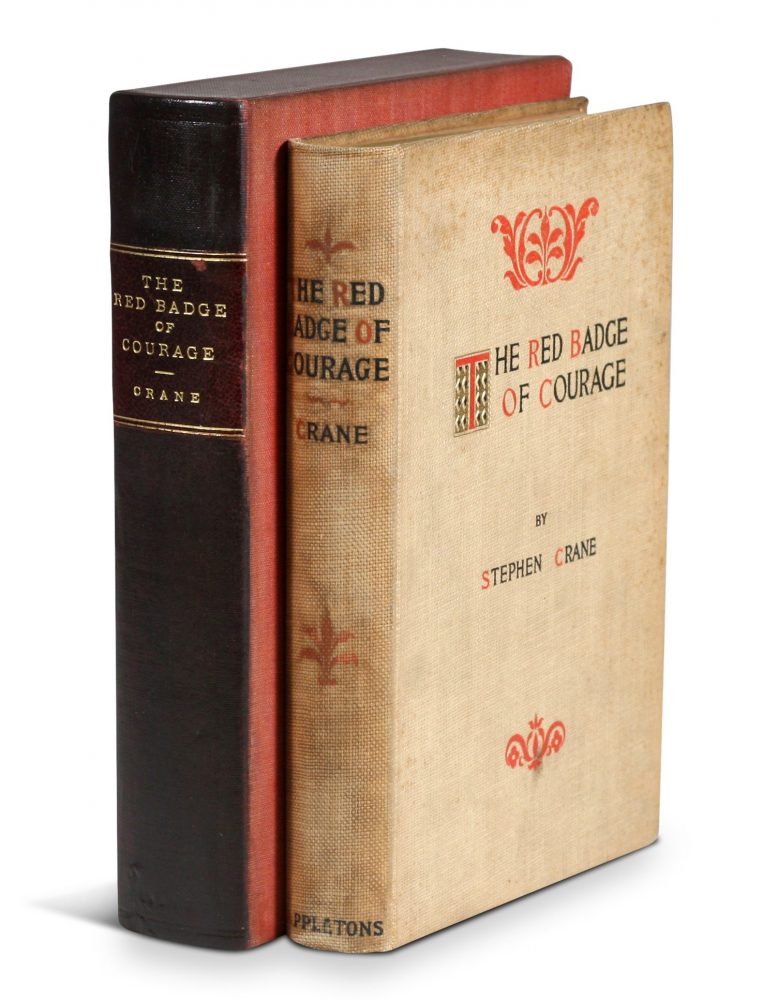 "It was not well to drive men into final corners; at those moments they could all develop teeth and claws."
CRANE, STEPHEN
The Red Badge of Courage
New York: D. Appleton and Co., 1895
FIRST EDITION, first issue of one of the most influential works of American literature.
The Red Badge of Courage, Crane's "most popular work, and the classic American treatment of the Civil War… interprets military experience through the perspective of an untried volunteer who receives his wound-badge while fleeing from a battle but eventually proves himself by fighting bravely. The book was so convincing that a Union colonel said he recalled serving with Crane at Antietam. The epic sweep of the novel arises in part from Crane's ability to convey a common soldier's rite of passage from fear to confidence. It also arises from Crane's ability to blend a variety of literary modes, including irony, the mock-heroic, comedy, and the grotesque. Crane's strikingly original use of colors, partly inspired by Goethe and already on display in Maggie, became a trademark, as did his penchant for offbeat insights and arresting turns of phrase. The autumn 1895 publication of The Red Badge of Courage in the United States and England brought Crane international fame as the book went into fourteen printings within the year" (American National Biography). BAL 4071.
Octavo, original buckram stamped in red, black, and gilt; early custom box. Book with foxing to cloth edges and toning to spine. Text exceptionally clean. With Appleton ads in rear.
The Red Badge of Courage: https://collectorsfolio.com/first-editions/the-red-badge-of-courage/